| | |
| --- | --- |
| Beergnome's Banananannana bread/muffins | |
who doesn't love warm banananananana nut bread and or muffins? Besides those that are deathly allergic to bananas, and nuts that is..

I for one.. have been on a muffin making blitz as of late. see, some people think cupcakes are better, I for one, care less for them.

I've also been giving my poor bread machine a work out as well. not trying to save money on anything in these hard economic times.. it still costs less to buy bread than to make it. I just like the uber fresh stuff out of my own kitchen.

so.. Banana bread and or muffins.. this recipe will do either, considering my bread pan is for shit, I've been using one of those disposable aluminum loaf pans for far too long, I really need to break down and just get some proper bread pans.. but I'm rambling again.. sorry..

so.. let's begin..

heat that oven up to 350
while that's going on.. assemble your ingredients..

2 cups of flour.
1 tsp of backing soda
1/4 tsp salt
a stick of unsalted butter (1/2 cup)
3/4 cup of brown sugar
2 eggs.
2-3 over ripe bananas, should be squishy and stinky

not much to it huh? pretty easy!

so you got a mixer right? it's helpful. I got a vintage Oster all in one Kitchen master.

in your mixer brown, add the softened butter, and the brown sugar and cream it all together.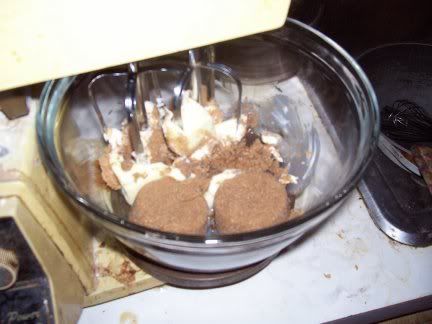 once the butter and brown sugar are creamed, you can go ahead and add the eggs, and the nanners..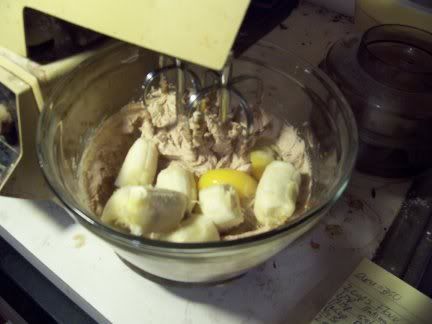 mix all that together until incorporated. while all that is going on get the dry ingredients together.. I use a sifter for this, gets everything worked together and fines out the flour, you can get pre-sifted flour but it IS A LIE!!

ahem.. so you dump all the dry ingredients, the flour, the soda, the salt, into the sifter.. for today's shinagins, I also added a half teaspoon of ground cinnamon. sift it all down into a separate bowl.

now the fun part.. getting the dry in with the wet.. start small and slow, other wise yer going to have a cloud of flour all over the place, besides making a mess you could relive a magical moment from practical demon keeping. not really.. but just add the flour mixture slowly until all is in, and all is incorporated.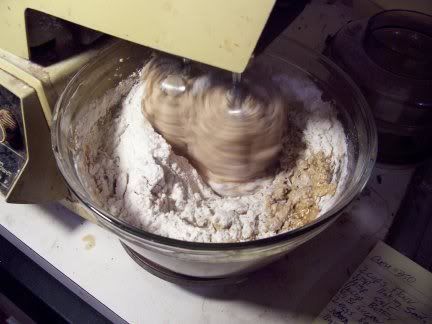 after a while, it all should be nice and mixed and ready to go..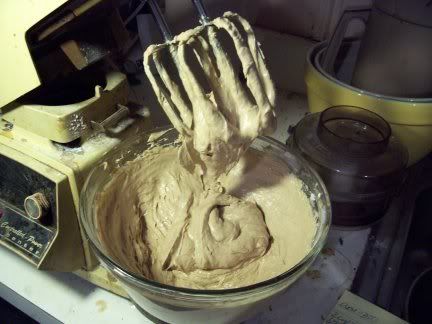 at this point is where you add the nuts.. I added some finely chopped Georgia almonds. I chop my own, but those pictures came out for shit. you can buy nuts pre-chopped of course.
Just fold the nuts into the batter until well incorporated.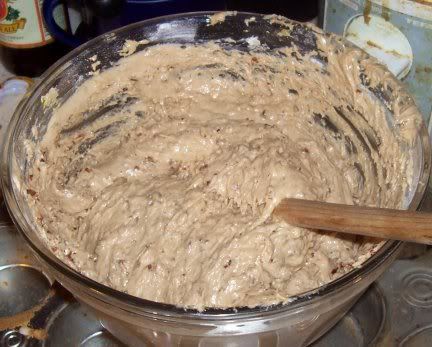 yes my kitchen is in a perpetual state of messiness.. such are the labs of many a mad scientist, so cut me some slack.

so now you have a couple of options here. loaf or muffin?

if you are going to do a loaf, simply take your loaf pan, grease it up, and dump the whole thing in there. at 350, it should take about an hour to bake. of course, it's done once you can poke a toothpick in the center and it comes out clean.

as for muffins? well.. either take a muffin pan and grease all the cups, or, put in cup liners. and fill them all about 2/3's full. This recipe will make about a dozen muffins, or one loaf.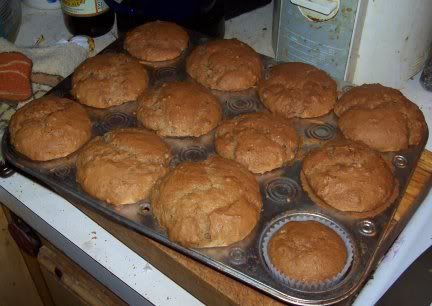 ah, fresh from the oven with a slap of butter...
Some people... some people like cupcakes exclusively, while myself, I say
There is naught nor ought there be nothing so exalted on the face of gods grey
Earth as that prince of foods... the muffin!
_________________
made of fire and pop rocks