| | |
| --- | --- |
| Italian clam stuff II, Cthulhus Reckoning | |
So I decided to revisit this old favorite, and get a little crazy with it.

the Bacon is ramped up to half a pound of diced bacon. Diced, and browned retaining the drippings and draining the crispies and setting aside.

now...

2 shallots peeled and diced, Shallots are like a cross between garlic and onions. lovely little things..
6 heavy cloves of garlic, peeled, crushed and chopped.

combine those in a bowl and set aside.

6 green onions, diced till just past the green.
4 table spoons of fresh chopped chives, for me, this was a good tug on my plant in the herb garden.
a bunch of Italian parsley, got this from the produce section, chopped down the bunch until I got to the heavy stem. Mince all that up

combine all that in a small bowl and set aside.

I'm once again using two cans of chopped clams and retaining the juice, but, I'm adding extra seafood.

prepare the seafood.

from my Fish monger I acquired a "handful" of fresh muscles. about a dozen and a half.
in a medium covered pot, I placed a vegetable steamer basket, and added about an inch of water to the pot, bring to a boil, dump the muscles into the basket, cover, and cut the heat. in about five minutes the muscles opened, and I immediately plunged them in Ice water to stop them from cooking any further, I simply wanted them to open up.

pick the muscles from the shell, place in a bowl and set aside.

Calamari heads.

yes, squid..the tentacles

I love the texture and flavor of these guys. my fish monger sells a pint of mixed tubes and tentacles for about $5. they are clean, the heads have had the beaks removed, as well as the ink sacks, and all internal organs, the tubes have been pealed and the cuttle bone removed. basically ready to go.
separate the tentacles from the tubes, put in a bowl and set aside.

the tubes, I'll be playing with later.

now to prepare

first off start a batch of linguine pasta, I used a whole regular box in salted boiling water with olive oil. while that's working:

Bring the bacon fat up to a medium heat, add half a stick of butter.

I never said this was good for you


toss in the garlic and shallots until just clarified, then drop in the clam juice from the cans.
bring to a boil, then add the green onions, chives and parsley, at this point, if you have a jar of clam juice.. and who doesn't? add a splash, white wine is good as well, but I didn't use that here.

add a squirt of lemon juice if not using wine, and bring to a low simmer.

once reduced, add the seafood, clams, calamari, and muscles, stir, and remove from heat.

at this point the pasta should be done.

drain the pasta, return to the pot, and then toss with the sauce.

enjoy kids!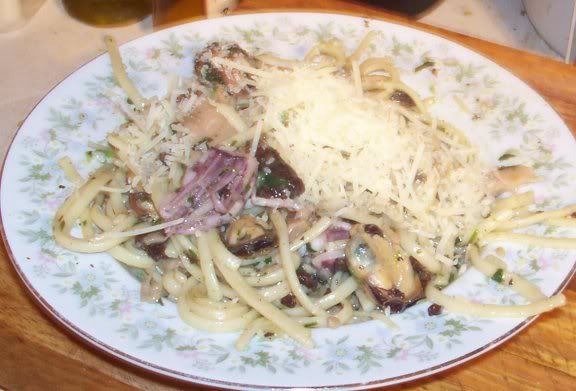 _________________
made of fire and pop rocks